Fast Quotes, Information & Assistance - Contact the Charter Team On: +44(0)1202 375 444
Citation III
Citation III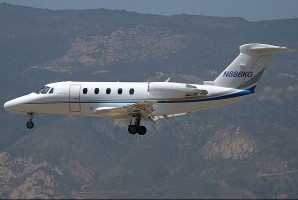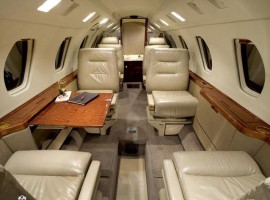 The Citation III is the parent of a range of aircraft (Citation III, IV & VII) aimed at the larger aircraft market with improved range and performance. Though still classed as alight jet by some it is a significant step up.
The Citation III cruises at approx 470 kts depending on the variant and at 51,000ft. The interior is significantly bigger although it still does not quite qualify as a stand up cabin.
The increased range makes this a very sensible option for trans-european business charters.
If you have any questions about this aircraft or to discuss your charter requirements please call a Flight Manager on +44 (0)1202 375 444

Specifications
Capacity

Number of Passengers
8
Number of Pilots

2
Luggage Capacity*

10
Standing Headroom (m)

No, 1.73

Cabin Dimensions (WxL m)

1.68x5.61

Performance

Range (km) **

3904

Speed (km/hr)

874
Example Flight Times (hrs:mins)

Helsinki - Kiev

1:50

Riga - Minsk

0:45

Facilities

Meals***
Standard
In Flight Entertainment

No
Email, Internet

No
Divan Beds

0

Toilets
1 (Semi-Enclosed)

These Specifications are for the type in general, individual aircraft may vary. On larger aircraft catering and phone/internet charges may be billed separately.
* More luggage in total can be carried in smaller softer baggs
** Range is reduced with a full passenger load
*** See Aircraft Guide for a description of typical catering services
Flight Quotation
Flight Quotation
Please select your criteria





Aviastra Flight Charter Ltd, Registered in England & Wales 6887340, VAT Reg GB 972 6118 08, T: +44(0)1202 375444, F: +44(0)1202 375411, E: charter@aviastra.com
A: Basepoint Centre, Aviation Business Park, Bournemouth International Airport, BH23 6NX, United Kingdom. ATOL Exempt